Thai Tattoo
Sak Yant Magical Tattoos
UK Tour, 15th of November
to the 24th of November 2024
Ajarn Ohr Grand Master, Sak Yant
Thailand's Number One Grand Master for casting magical Yant's and doing Sak Thai designs.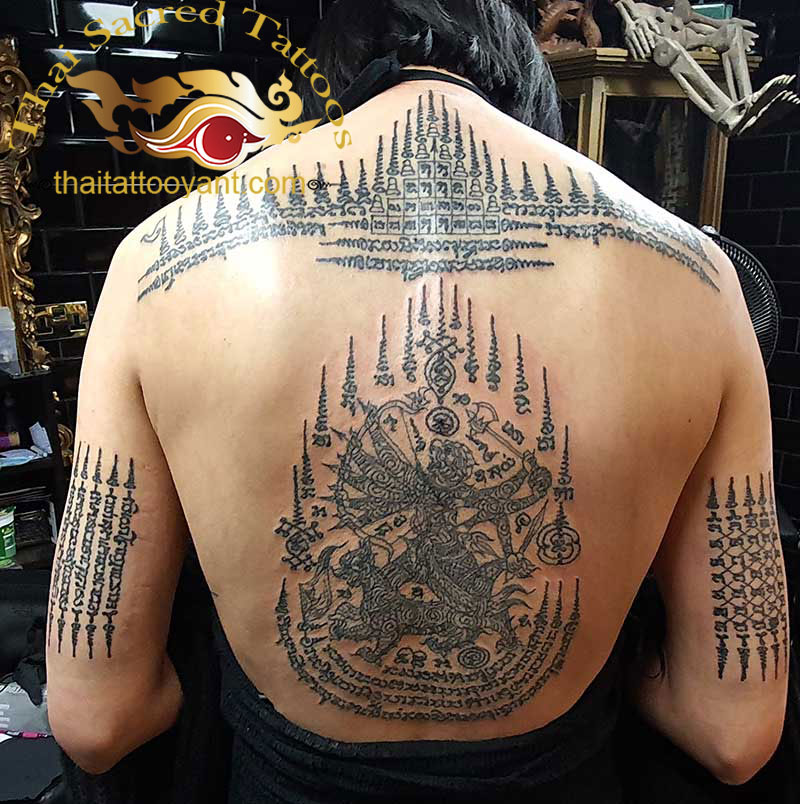 Thai Tattoo UK Tour November 2024
20th to the 24rd of November 2024
at
Happy Sailor Tattoo Studio
15th to the 17th of November 2024 at
Skin Graffiti Tattoo Studio
18th to 19th of November 2024
at
The Tattooed Gent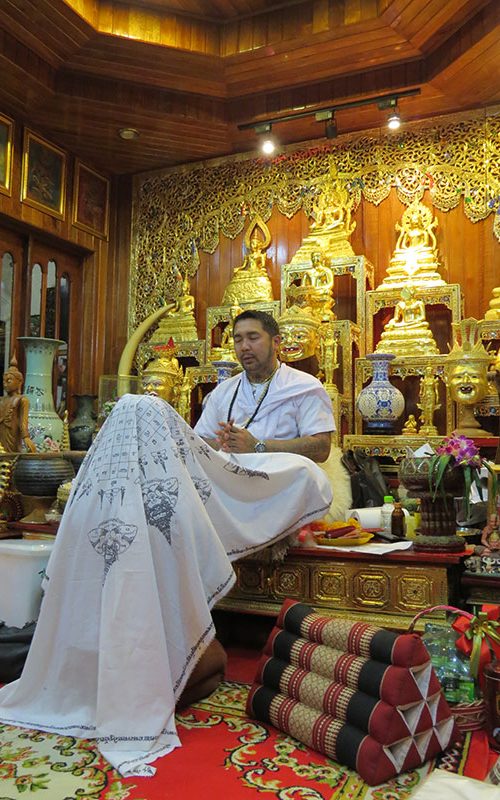 To our past customers and future customers please contact us for information at [email protected] In the past, we have toured around the world, which included the USA, Australia, China, Sweden, Netherlands, England, Taiwan, Belgium, Singapore, Malaysia and many more. Due to the situation at moment we are just planning to visit England in 2024.
For anybody who is travelling to Thailand we offer a Thai Tattoo service at our Sam Nak (tatttoo office) at Thailand prices. We have some amazing Masters who will be in the future travelling with us around the world.
Ajarn Aut Sak Yant Master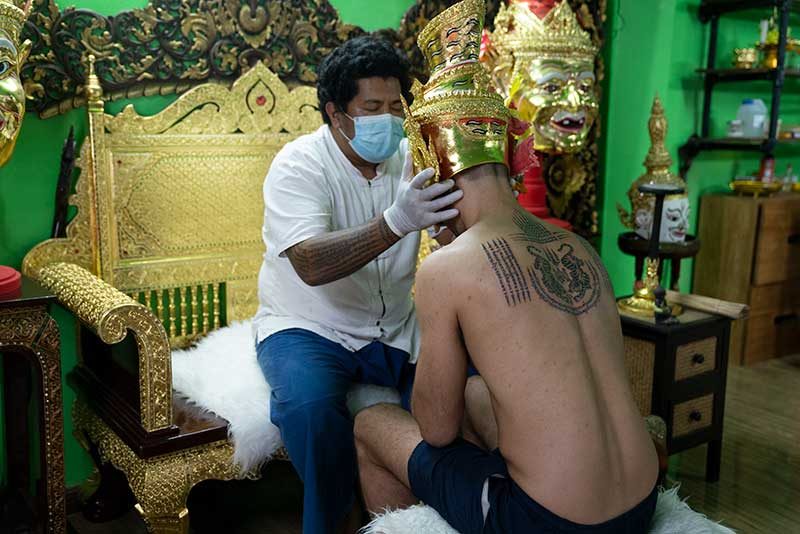 Below Ajarn Aut's tattoos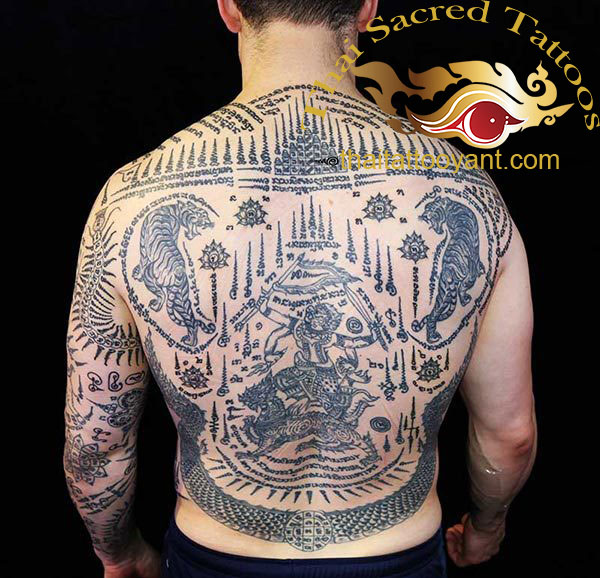 Ajarn Aut did this in hand poke and the skin was good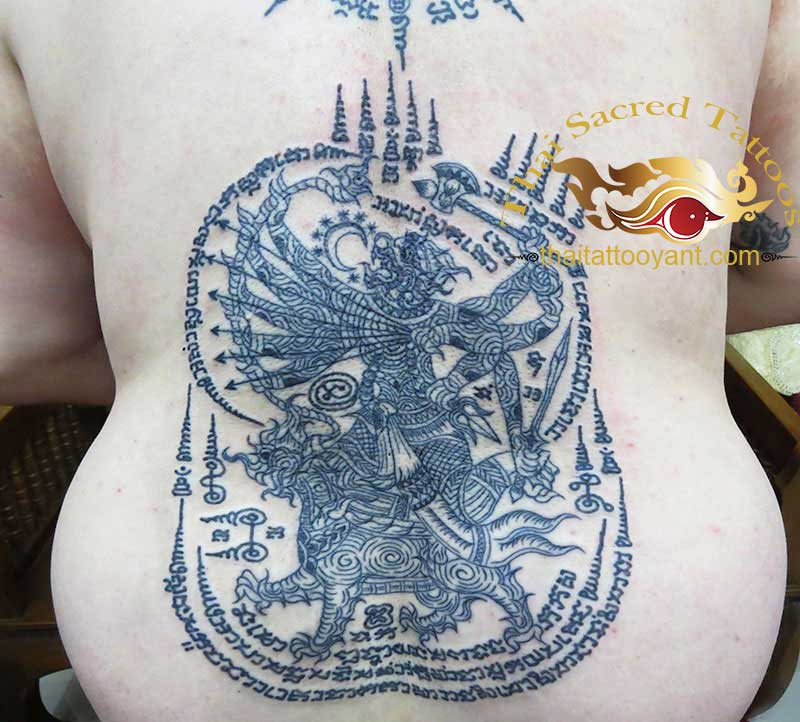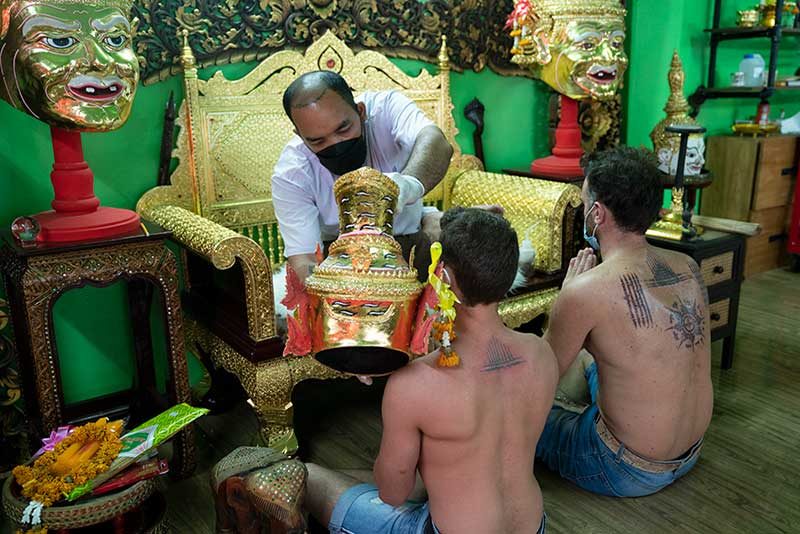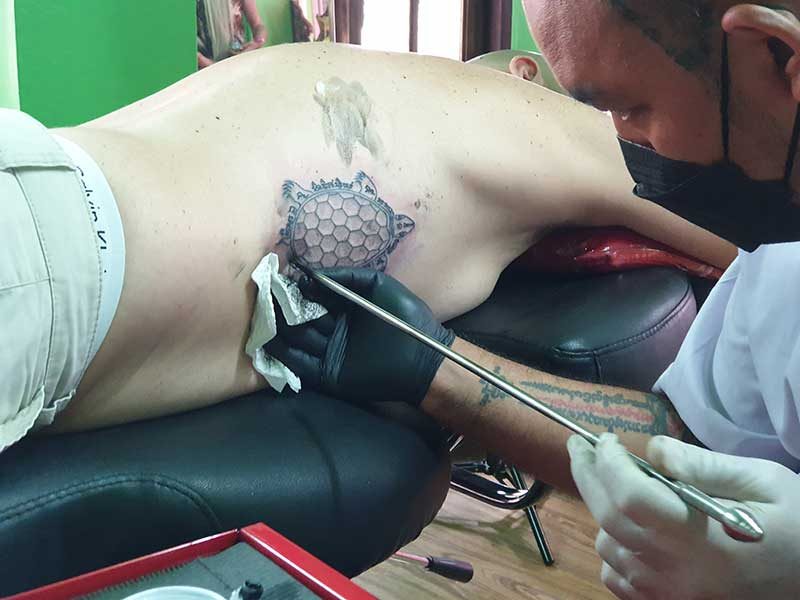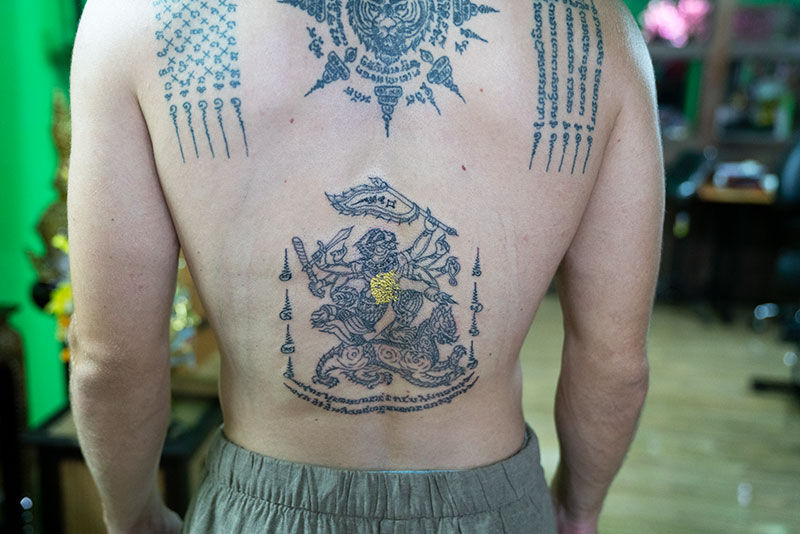 Below Ajarn Ohr at his Sam Nak(tattoo Office)
Thai Tattoo Grand Master Ajarn Ohr working his magic at his personal Thai tattoo Sak Yant temple. Please read below, for information on how to book an appointment. To start the booking process, you will first need to select the Sak Yant Thai tattoo design you are interested in. You can start by looking at this this website.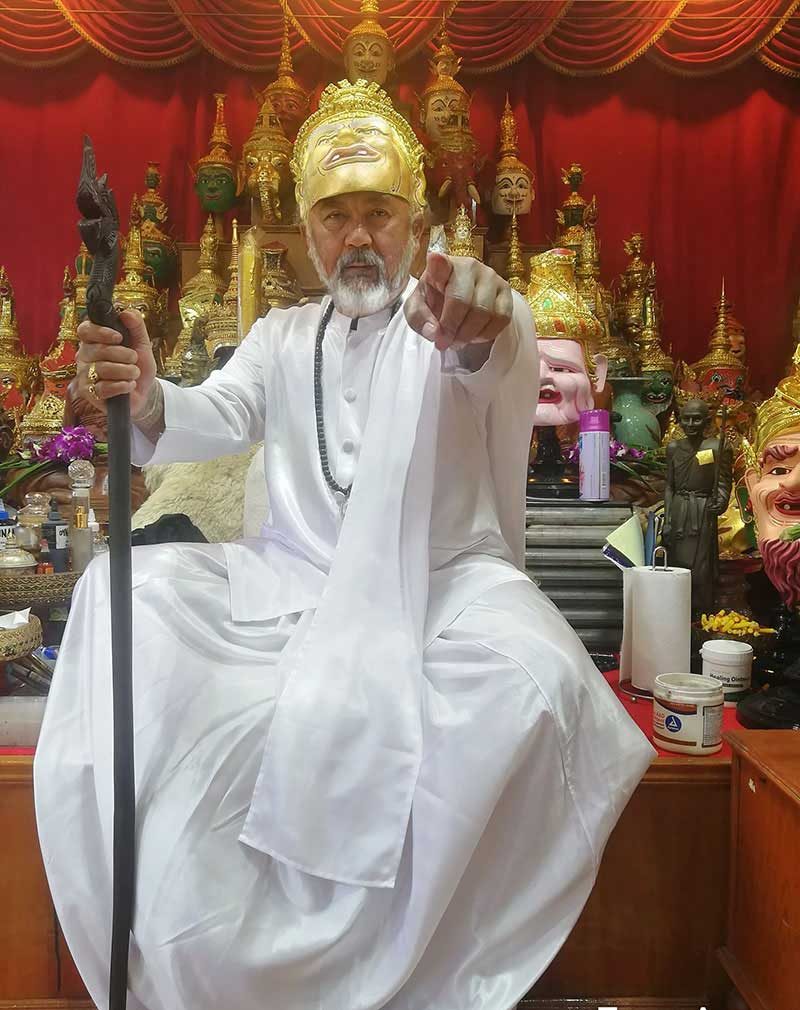 Follow Links below for Thai tattoo design ideas
You can do a google image search or click the link below to start your search.
You can use a combination of the search keyword (Sak Yant Thai tattoo design) to get more results. To book, please let me know your preferred day, morning or afternoon and studio. Below you can read about accepting and receiving the tattoo, activation of the tattoo and getting a personal blessing from Grand Master Ajarn Ohr. If you need any more information, please ask. Life Is Magical, Live Your Life Like Magic and receive a magical tattoo.
Grand Master Ajarn Ohr being interviewed in Happy Sailor Tattoo Studio London
He will do the blessing to receive the tattoo at the same time as you present the offerings. We have offerings to present but if you would like to bring your own offering to make it more personal. Then you can bring flowers or cigarettes or some small bottle of spirit or incense or candles etc. This is known as Parn kroo and there is one more called kar kroo. Which is a traditional donation/offering to the Master. This is the money from which the Master and his family live on. Also, some of this money is donated to temples and poor people in the mountains of Thailand. We still need to put money on the tray as an offering. So out of the cost of the tattoo, you need to keep £20 and put this on the offering pan. Ajarn Ohr and Bangkok Ink donate some of the money to help people. It can make a difference to villages and schools in the mountains far away from Bangkok. There are no roads, no phone signals. You can only get there by 4×4 drive vehicles. There are hundreds of members in the 4×4 club Ajarn Ohr runs, which all donate to these villages. Sak Yant and Buddhism is all about helping people.
1st. Yok kroo - Presenting an offering to the master
Kneel forward, face to face to the master about 1 meter apart. Present the offering on the dish to the master with the arms outstretched while looking down and please wear a mask.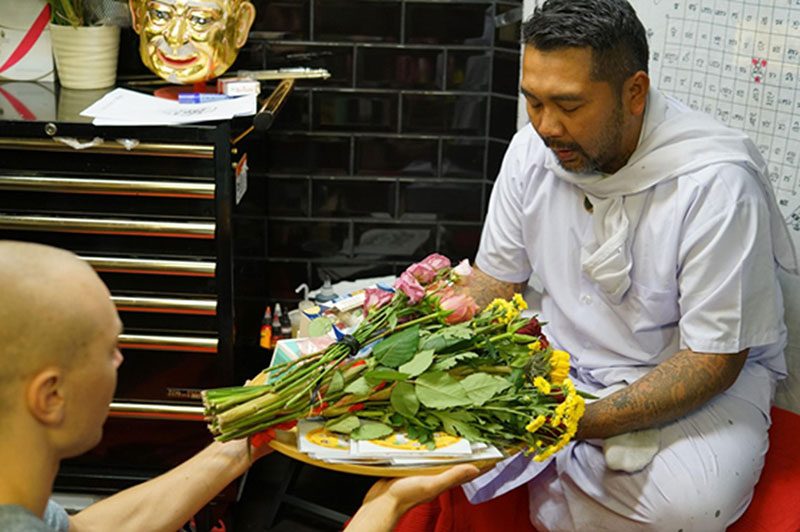 Sak Yant Thai Tattoo, Receiving the Blessing Guidance
2nd. Rab Karn Sak Yant - Getting a Sak Yant Thai Tattoo
Control your breathing, breath in and out, steady, while meditating. Try not to move when receiving  the tattoo. Ask for a break if you want one. Not a problem to take a break.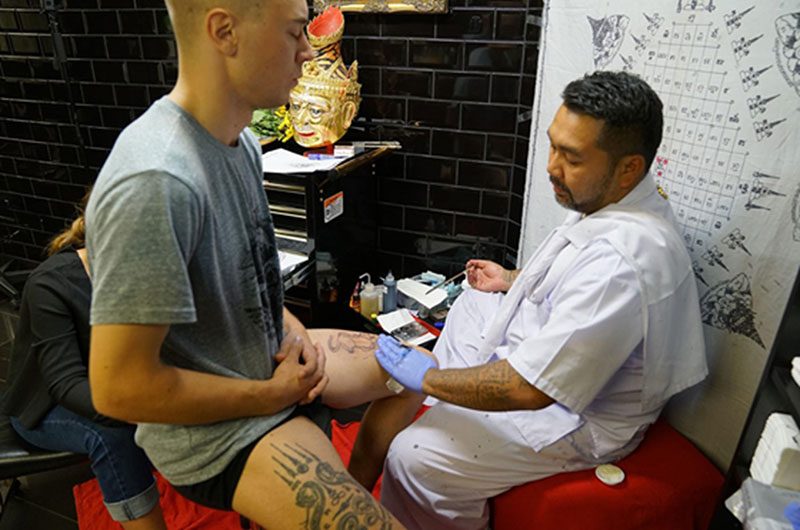 3rd. Seak Kha Tha - Receive the blessing and Activation of the tattoo
While receiving the blessing, put your hands together in a prayer-like position and keep your eyes closed. Think about what you want out of life. He will put coconut oil on the tattoo and start a chant to activate the Sak Yant Thai Tattoo design and bring to you what you wish for. It is all about thinking positive and making a new start to your life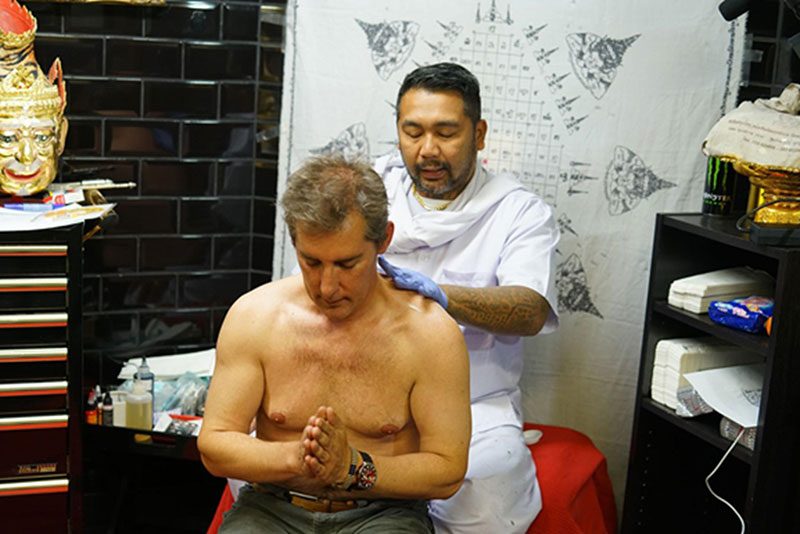 4th. Krob kroo – Personal blessing from Ajarn Ohr to you
On completion of the activation of the tattoo. You will be asked to turn around and face the Ajarn and then you will receive a personal blessing with a blessed gift (Tukret) from the Ajarn Ohr. The master will put the Ruesi mask on your head. Traditionally this was to accept you as a disciple and if you did want to become a disciple as many thousands of Thai people have done. You just accept in your mind.
He will pray for your happiness, for protection, and for good luck.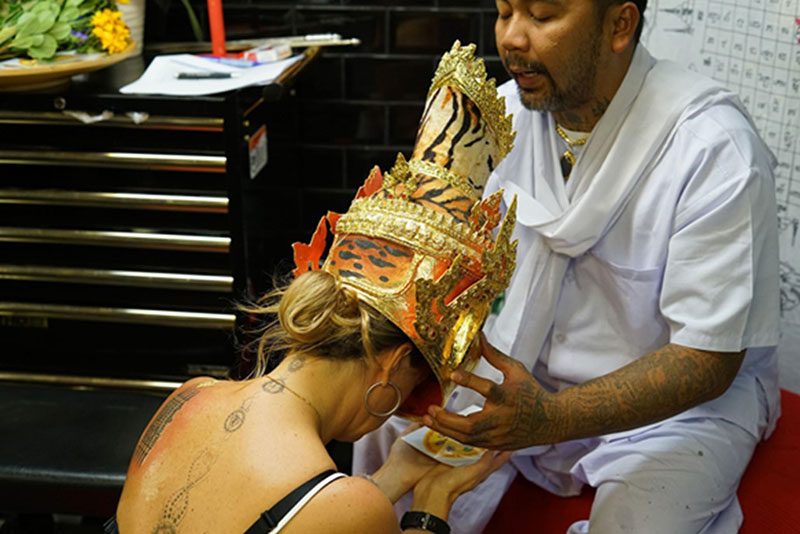 On completion the tattoo, gold leaf is placed beside the tattoo to enrich the magic and your life. Once everything is complete we will cover it for the journey back home.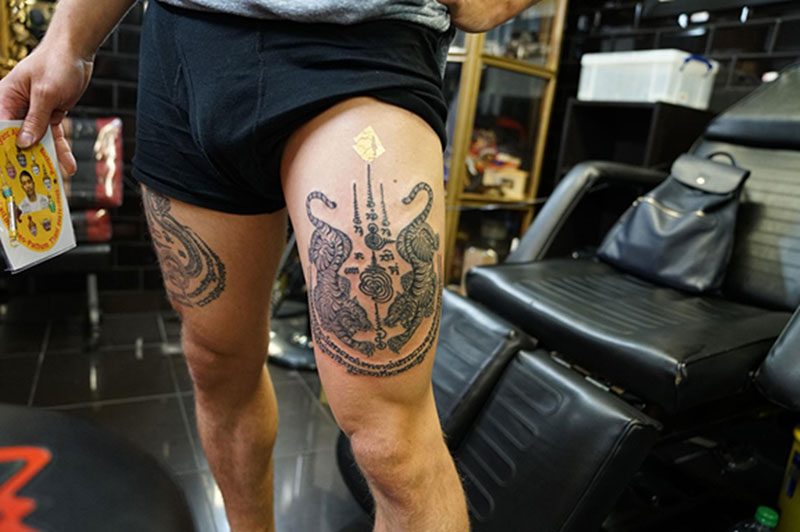 Hand Poke stick for sale
You can buy this Stick and Poke kit below. We have many designs but this one is the most popular as it does the best tattoos. You can also buy blessed sticks/rods as all Thai hand poke tattooist/masters like them blessed for good luck.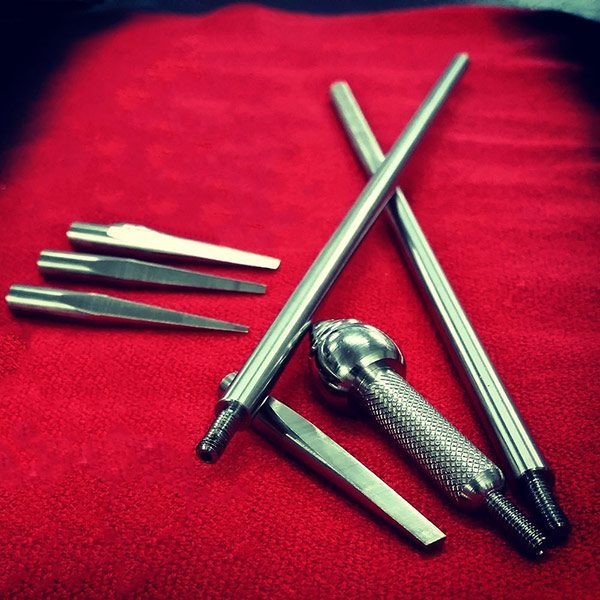 Wai Khru Sak Yant Thai Tattoos
Grand Master Ajarn Ohr who has the largest followings in Thailand trains many disciples to become masters of Sak Yant Thai tattoos. Two of his trained Masters work at our studio. Master Ajarn Aut and Master Ajarn Sak. 
Every year Ajarn Ohr holds a wai Khru for his disciples and followers to come and show respect to him. For this Grand Master Ajarn Ohr blesses everyone personally. Below is pictures of Wai Khru.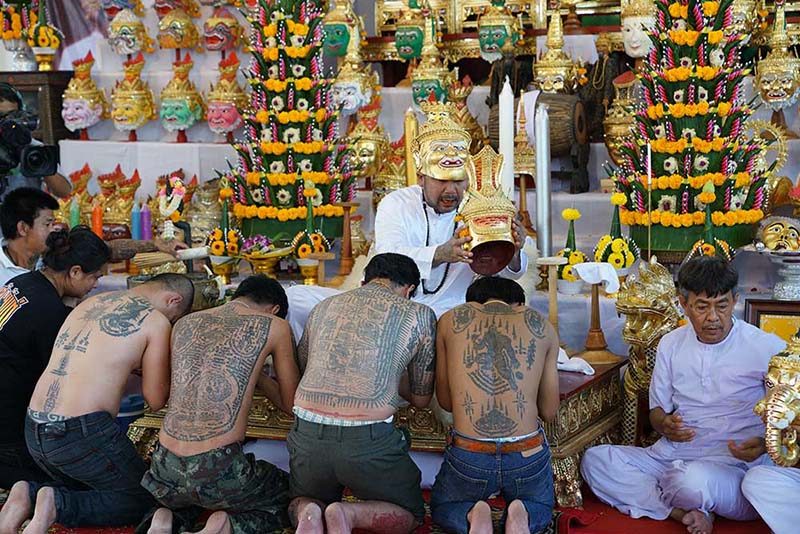 Ajarn Ohr has many thousands of disciples.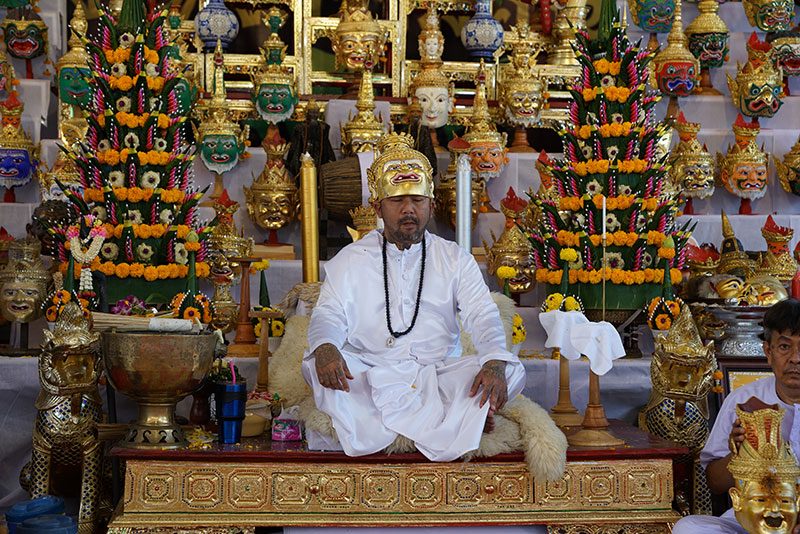 Many women take part in the annual Wia Khroo. Many do not have tattoos but just want the blessing from Grand Master Ajarn Ohr. Also many do have lots of Thai Tattoos.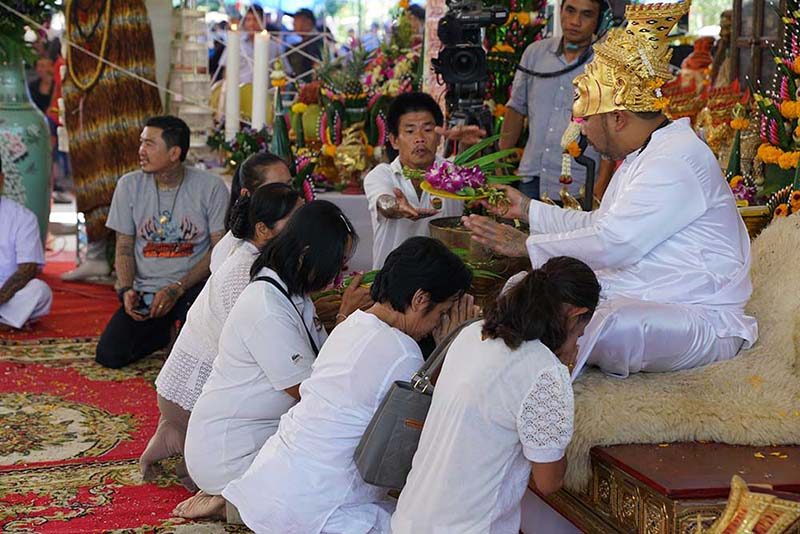 There is only one bigger Wai Khru in Thailand than Ajarn Ohr and that is Wat Bang Pra.  Wai Khru is to show respect to the Master teacher.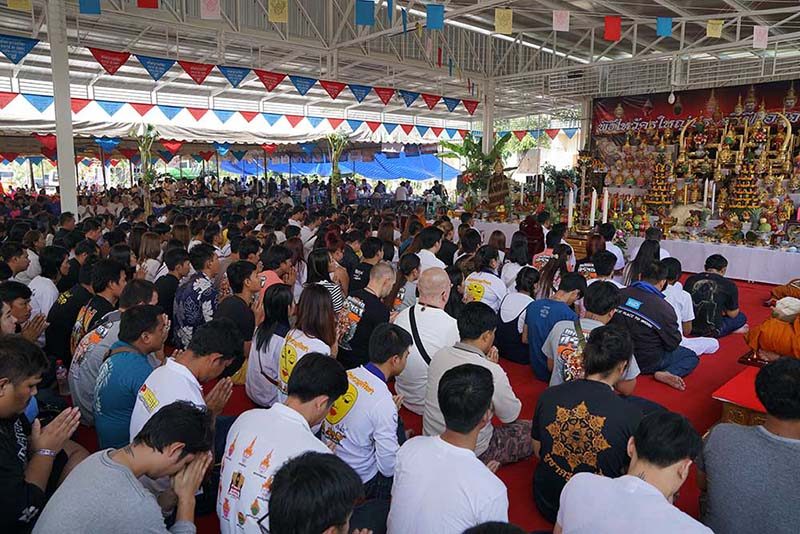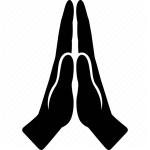 Book An Appointment
and recieve a Sak Yant Thai Magical Tattoo with Blessings
[contact-form-7 id='86' title='Form']